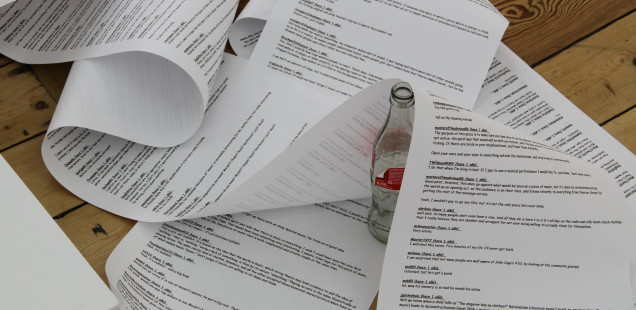 FD13 presents: Artist talk with Adriana Lara moderated by Sandra Teitge. Monday, 22 May 2017, 6 pm. Cleopatra's/New York.
FD13 residency for the arts presents:
Artist talk with Adriana Lara moderated by Sandra Teitge 
Monday, 22 May 2017, 6 pm
Cleopatra's 
110 Meserole Ave
Brooklyn, New York 11222
—
Adriana Lara examines the instability of meaning, the structures and patterns, in which content and form merge, reflect on each other, and dissolve. Through this line of exploration Lara's practice takes on many different formats and shapes as she experiments with different contexts with an open-ended, non-academic approach. Under the collective Perros Negros, she continues to curate exhibitions; she also has been editing the fanzine Pazmaker since 2006.
Lara's work has been shown at Nassauischer Kunstverein Wiesbaden (2017), Kunstverein Braunschweig (2016), Air de Paris (2016), 21er Haus-Belvedere/Vienna (2014), Kunsthalle Basel (2012), Utah Museum of Fine Arts/Salt Lake City (2010) amongst many others. Her work has been featured in numerous group exhibitions at the Sculpture Center New York (2016), Kunsthalle DenFrie/Copenhagen (2015), the Marrakech Biennale 5 (2014), dOCUMENTA (13) (2012), CCA Wattis Institute for Contemporary Arts/San Francisco (2012), the New Museum/New York (2009), and the Jumex Collection in Mexico City (2008).
This New York City artist talk follows a residency that Lara conducted in Washington D.C. at the Mexican Cultural Institute (May 14-20), where she presented her ongoing project Club of Interesting Theories, a proposal for the potential visualization of the processes of theory-making and thought-production, this time with a focus on Mexican-U.S. American relations. An accompanying publication includes the theories paired with the artist's abstract graphics that materialize the theories into abstract shapes. At the public event in D.C., a series of projected graphics from Lara's visual system were in dialogue with readings of a few selected interesting theories along with a site-specific installation that unfolded as the evening advanced.
With the support of the Mexican Cultural Institute of Washington D.C. and New York, the Embassy of Mexico in the United States, and the Mexican Agency for International Development Cooperation.