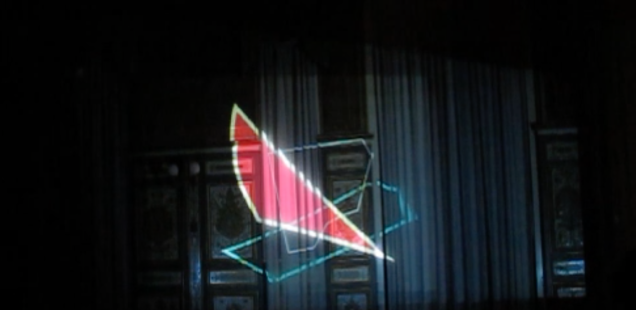 Adriana Lara. The Club of Interesting Theories. 18 May 2017. Mexican Cultural Institute of Washington D.C.
Adriana Lara "Club of Interesting Theories" at the Mexican Cultural Institute in Washington D.C.
in collaboration with FD13/Sandra Teitge
The "Club of Interesting Theories" is the upshot result of a long term project. Lara has been working with a graphic generative system, which she proposes as a potential visualization of the processes of theory-making and thought-production more generally.
Taking the larger context of the interdependent and complimentary Mexico-US relationship as a point of departure, Lara presented a series of graphics from her system in dialogue with a sequence of readings of texts by Mexican writers, academics, students, and artists, who research U.S-Mexican relations in the fields of economics, geography, demographics, natural resources, culture, history, national security, etc. The texts have either been written for this occasion or are excerpts of existing academic papers, pieces of journalism and philosophy.
The Club opened the opportunity to present and discuss relevant theoretical works, as well as the Mexico-US relationship in general, alongside an artistic counterpart that attempts to integrate thought into the reading of an artwork. The work of the participating authors were published in a booklet together with the artist's abstract graphics, which are assigned to each of these theories.
As a part of the project, Lara presented a series of 7 oil paintings titled "Interesting Theories" which are numbered in correspondence to the written theories.
In parallel to the exhibition, a reading performance took place in the Music Room of the Mexican Cultural Institute and illustrated how the theories merge and overlap with each other whilst creating new shapes. The audience was invited to listen to excerpts of the theories and reflect upon the corresponding forms created from this generative system.
CLUB DE LAS TEORÍAS INTERESANTES
Manuel de Landa, Deleuze, Diagrams and the Genesis of Form #40
David Lara Catalán, La Astucia Del Imaginario Social #41
Pedro Jiménez, Liberal Theory, Plurality and the Zapatista Experience #42
Héctor Guillén Romo, México: de la sustitución de importaciones al nuevo modelo económico neoliberal #43
Fidel Aroche/Marco Antonio Marquez, An Economic Network in North America #44
Lilia Domínguez/Laura Vázquez, Skilled migration to the US (work in progress) #45
Pablo Kalmanovitz, Strategic unpredictability #48
Gustavo Mauricio Bastien Olvera, La seguridad nacional de México ante el crimen organizado y sus efectos sobre el desarrollo humano: el caso del tráfico ilícito de armas de fuego #49
Paola Virgina Suárez Dávila, Post-Punk In Concert: The Digital Art Circuit #47
Sabine Pfleger/Joselin Barja, Resignifying the Northern Border #46
Ariadna Estévez, The (Necro)Policies Of Spatial Injustice In The US-Mexico Border: Disposability Pockets And Forced Depopulation #50
Sandra Alarcón, Piratas en la Aldea Global #53
Camelia Tigau, Medical Migration: The Case For A Knowledge Circulation Theory #51
Amaia Orozco, Global Care Chains/Cadenas globales de cuidados #52
Fernando Gómez Candela, La Derrota #54