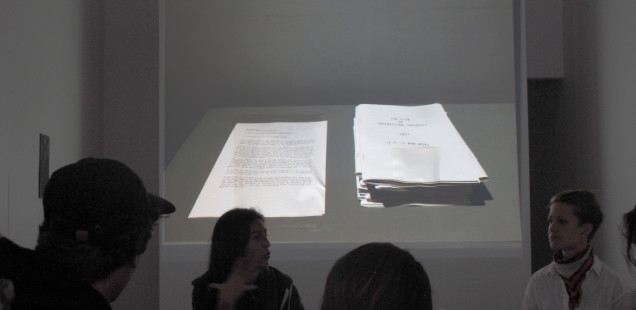 Artist talk with Adriana Lara. 22 May 2017. Cleopatra's, Brooklyn/New York.
FD13 residency for the arts presents:
Artist talk with Adriana Lara moderated by Sandra Teitge "Club of Interesting Theories"
Monday, 22 May 2017, 6 pm
Cleopatra's 
110 Meserole Ave
Brooklyn, New York 11222
—
The "Club of Interesting Theories" is an ongoing series created and led by Adriana Lara consisting of graphics applied on different objects. The series' title functions as the label to refer to 'interesting theories' as immaterial products. What becomes 'interesting' according to today is in constant change. Either religious, political, philosophical or scientific, theories considered interesting are the ones that keep the world changing. Theories navigate through the present without necessarily being noticed, their transcendence is only evidenced through their surroundings. Once the theory becomes objectified through this work, one as a viewer may become aware of this absence of information.
Each work features a different graphic motif generated by a system of intersected shapes . This system was conceived as a generative one, which offers on the one hand a hypothetical view of how theories are elaborated, on the other, these graphics work as symbols for potential meaning. 
In Washington D.C. taking the larger context of the interdependent and complimentary Mexico-US relationship as a point of departure, Lara presented a series of graphics from her system in dialogue with a sequence of readings of texts by Mexican writers, academics, students, and artists, who research U.S-Mexican relations in the fields of economics, geography, demographics, natural resources, culture, history, national security, etc. The texts have either been written for this occasion or are excerpts of existing academic papers, pieces of journalism and philosophy.
The Club opens the opportunity to present and discuss relevant theoretical works, as well as the Mexico-US relationship in general, alongside an artistic counterpart that attempts to integrate thought into the reading of an artwork. The work of the participating authors are published in a booklet together with the artist's abstract graphics, which are assigned to each of these theories.
As a part of the project, Lara presented a series of 7 oil paintings titled "Interesting Theories" which are numbered in correspondence to the written theories.
In parallel to the exhibition, a reading performance took place in the Music Room of the Mexican Cultural Institute and illustrated how the theories merge and overlap with each other whilst creating new shapes. The audience ws invited to listen to excerpts of the theories and reflect upon the corresponding forms created from this generative system.