FD13 presents: Dragana Bulut. Friday, 16 September 2016, 7pm & Saturday, 1 October 2016, 7pm.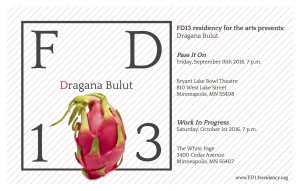 FD13 residency for the arts presents: Dragana Bulut
Pass It On
Friday, 16 September 2016, 7pm
Bryant Lake Bowl Theatre
810 West Lake Street
Minneapolis, MN 55408
Work In Progress
Saturday, 1 October 2016, 7pm
The White Page
3400 Cedar Avenue
Minneapolis, MN 55407
Pass It On is a performance realized as an auction, which deals with the question of authorship, the relation between the material and the immaterial, and the value of an artistic object.
The rules of the auction and the registration form will be available before the beginning. By registering you get your bidding number and become a potential owner of the items that will be presented at the live auction. 
Bring your cash because it's all for grabs!
Note that by registering you don't oblige yourself to buy any item; however, you could find art at bargain prices and have fun, too.
Work In Progress will present Bulut's research while in residency at FD13.
—
Dragana Bulut works with choreography and dance and was based in Belgrade/Serbia before moving to Berlin/Germany, where she graduated from MA studies Solo/Dance/Authorship at Hochschulübergreifendes Zentrum Tanz Berlin (HZT).
Since 2005 Bulut has been developing her own choreographic work, which was presented in various national and international contexts, including: Tanzquartier Vienna/Austria, InTransit festival Berlin, euro-scene Leipzig/Germany, iDANS festival Istanbul/Turkey, Fabrik Potsdam/Germany, Danspace Project New York, NY/USA, eXplore Dance Festival Bucharest/Serbia, Kondenz Festival, Belgrade and Balkan Dance Platform, Ljubljana/Slovenia.
Dragana performed amongst others for Meg Stuart, Tino Sehgal, Ivo Dimchev, and Charles Linehan.
In 2013-15 Bulut was a performing arts resident at Schloss Solitude; in 2010 she won the Prix Jardin d'Europe and in 2004 and 2008 she received the DanceWeb Europe Scholarship. She is also a member of Station – Service for contemporary dance in Belgrade.
Bulut's FD13 residency is made possible through support from the Trust for Mutual Understanding (TMU).