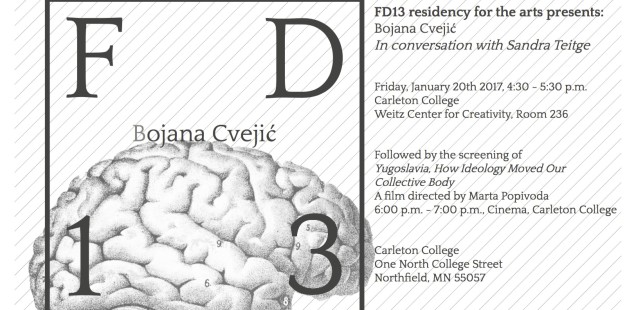 FD13 presents: Bojana Cvejić in conversation. Friday, 20 January 2017, 4.30 pm. Carleton College (Weitz Center for Creativity)
FD13 residency for the arts presents: Bojana Cvejić
In conversation with Sandra Teitge at Carleton College (Weitz Center for Creativity, Room 236)
Friday, 20 January 2017, 4.30 – 5.30pm
followed by the screening of
"Yugoslavia, How Ideology Moved Our Collective Body" – a film directed by Marta Popivoda
6pm – 7pm, Cinema, Carleton College
Carleton College
One North College Street
Northfield, MN 55057
Talk in Chicago at Sector 2337 (with the support of the Goethe Institut Chicago)
Monday, 23 January 2017, 7pm
—
Bojana Cvejić (born in Belgrade/Serbia) is a performance theorist and performance maker based in Brussels. She is a co-founding member of TkH editorial collective (http://www.tkh-generator.net) with whom she has realized many projects and publications. Cvejić received her PhD in philosophy from the Centre for Research in Modern European Philosophy, London and MA and BA degrees in musicology and aesthetics from the Faculty of Music, University of the Arts, Belgrade.
Her latest books are Choreographing Problems: Expressive Concepts in European Contemporary Dance and Performance (Palgrave, forthcoming), Drumming & Rain: A Choreographer's Score, co-written with A.T.De Keersmaeker (Mercator, Brussels, 2014), Parallel Slalom: Lexicon of Nonaligned Poetics, co-edited with G. S. Pristaš (TkH/CDU, Belgrade/Zagreb, 2013) and Public Sphere by Performance, co-written with A. Vujanović (b_books, Berlin, 2012). She has been (co-)author, dramaturge or performer in many dance and theater performances since 1996, with a.o. Jan Ritsema, Xavier Le Roy, Eszter Salamon, Mette Ingvartsen, and Christine De Smedt.
Cvejić teaches at various dance and performance programs in Europe and has been recently appointed as Professor of Philosophy of Art for the doctoral studies at Faculty for Media and Communication, University Singidunum in Belgrade. Her current research focuses on social choreography, technologies and performances of the self, and time and rhythm in performance poetics and Post-Fordist modes of production.
—
Cvejić's FD13 residency (9–23 January 2017) is made possible through support from the Trust for Mutual Understanding (TMU).
Thank you to Cameron Gainer for hosting the residents.
Thank you to Judith Howard for making this conversation possible at Carleton College.
Thank you to our field coordinator Bruno Freeman for taking care of our artists.