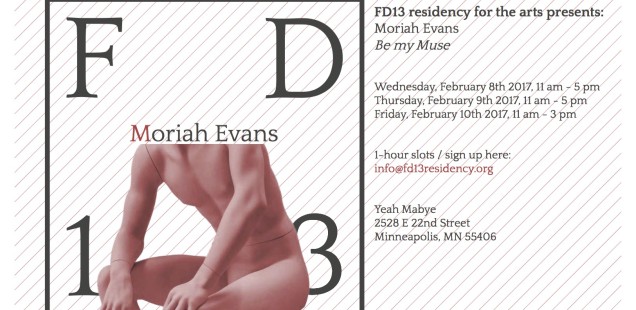 FD13 presents: Moriah Evans. Be My Muse. 8–10 February 2017, 11am–5pm. Yeah Maybe.
FD13 presents: Moriah Evans. Be my Muse.
(in collaboration with Kampnagel Hamburg / in parallel to Common Time at the Walker Art Center)
Wed, 8 February & Thurs, 9 February 2017, 11am – 5pm
Friday, 10 February 2017, 11am – 3pm
(1-hour slots / sign up here: info@fd13residency.org)
Yeah Maybe
2528 E 22nd St
Minneapolis, MN 55406
—
In Be my Muse, Evans will occupy various rooms at Yeah Maybe with a cycle of 49-minute performances commencing at the start of each hour. Evans will expose her process to a series of interventions and opinions from the public to produce an open choreographic system modulated through time and intimate yet momentary exchanges. The construction of a solo performance is examined whilst expressions of power, control, dominance, submission and the authority of the author are in a perpetual state of redefinition.
Hourly, from 11 am to 5 pm.
—
Moriah Evans is a choreographer based in New York. Her compositions are processed not by form but by a procedure, insisting on the value of bodies in motion and relation. Her choreographic work has been presented by The Kitchen, MoMA/PS1, Danspace Project, Issue Project Room, Judson Church, AUNTS, American Realness, BAX, New York Live Arts, The New Museum, The Chocolate Factory, Dixon Place, CalIT2, and internationally at Kampnagel, Theatre de l'Usine, and CDC Atelier de Paris. In 2015, she received a Bessie award nomination for Emerging Choreographer. She is a graduate with honors of Wellesley College with a B.A. in Art History and English Literature and did her PhD studies in the Visual Arts Department at the University of California, San Diego. She is the Editor-in-Chief of the Movement Research Performance Journal and has been involved with the publication since 2009. During her 2011-2013 residency at Movement Research, she initiated The Bureau for the Future of Choreography–a collective apparatus involved in research processes and practices to investigate participatory images of performance and systems of choreography. In her recent diptych, Social Dance 1-8: Index and Social Dance 9-12: Encounter, Evans considers how we dance together and engage social relationships through the choreographic pathways of dancing and witnessing within the performative event–interrogating dance history as well as the exhibitionism inherent to performance.