Patrick Staff interviewed by Sara Cluggish for The Third Rail, Issue 11.
—
Adriana Lara's Club of Interesting Theories booklet, Washington D.C., May 2017.
FD13_Adriana Lara_Club of IT_Booklet
—
Moriah Evans interviewed by Sandra Teitge, 7 February 2017, Minneapolis.
FD13 interview with Moriah Evans
—
Bojana Cvejić in conversation with Sandra Teitge, 20 January 2017, Carleton College (Weitz Center for Creativity).
—
Ligia Lewis interviewed by Emily Gastineau for Temporary Art Review.
PDF_Ligia Lewis interviewed by Emily Gastineau
Post-performance talk with Ligia Lewis & Jonathan Gonzalez, moderated by Sandra Teitge, March 2016, Public Functionary
—
Sara Ludy interviewed by Anaïs Nony
—
Post-performance conversation with Julia Kouneski & Sarah Petersen. Minneapolis, 21 November 2015. (excerpts)
PDF_conversation
Conversation between Julia Kouneski, Nor Hall & Sandra Teitge. St. Paul, 23 November 2015. (excerpts)
PDF_Kouneski_Hall_Teitge
—
Adam Linder interviewed by Anaïs Nony. Choreography is a Technology of Presence.
PDF_Adam Linder interviewed by Anais Nony
—
Drive-in action & interview by Malin Arnell. Concept: Anaïs Nony.
The interview took place on 21 March 2015 and serves as part of the audio for the video of the action.
It consisted of a group of words written on pieces of paper, to which Malin Arnell responded associatively.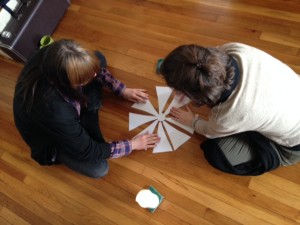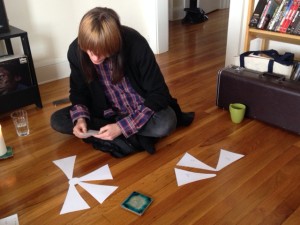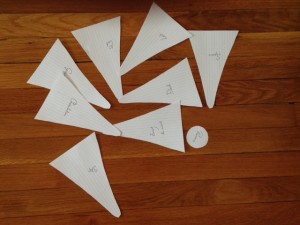 —
Interview of Jen Rosenblit by Anaïs Nony.
Covering or covering up? On disguise and the availability of not being seen. (Sunday, 7 September 2014, Saint Paul, MN.)
Please use headphones to enjoy a better audio quality.
What is your first memory of dancing?
How is this memory different to what you presented in the framework of the FD13 residency?
Do you think that putting yourself and the audience at risk is more than a leitmotiv in your work?  How do you manage the space of control when you ask the audience –who you don't know– to participate?
Do you feel that there are things in your work that perpetually come back? And if so, what are they?
How is that gaze different from the gaze on the street, from people you don't know?
You danced solo on Thursday night and your only objects were gloves. Could you talk a little bit about that? Part 1.
Part 2.
With this idea of disguise, almost prosthesis, how do you manage the fact that some objects/attitudes/postures work as references and give clues for interpretation? How do you work with your body and this constant consciousness for the present moment to open up interpretations? Part 1.
Part 2.