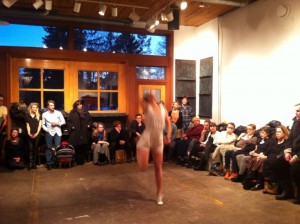 Mission statement:
FD13 residency for the arts' mission is to promote an international network of artistic exchanges in Minnesota, to further intercultural understanding, and to stimulate the creative development of artists.
FD13 aims to create a dialogue between the community of Minneapolis/St. Paul and international performers, choreographers, and artists. The objective is to invite artists-in-residence to the Twin Cities to engage with the local art community and to simultaneously promote Minnesota artists and their work by providing an international visibility through collaborative partnerships that extend beyond the residency.
Program:
Started in early 2014 by curator Sandra Teitge, FD13 residency for the arts provides dedicated time and space for creative work to artists from around the world for a period of one to four weeks. These artists are selected by the artistic director and the board of directors and identified through an international nomination process to ensure the quality and the commitment of new and challenging contemporary work. Until the summer of 2016, the fellows were hosted in a 19th century firehouse converted into a studio and residence, which lends its name to the residency: FD13 for Fire Department 13. Starting in fall 2016, the fellows are hosted in a guest house in Northeast Minneapolis generously supported by Cameron Gainer.
The residency offers living and working space at the guest house as well as rehearsal space, and includes technical assistance. The residents are able to showcase their work in unique ways through FD13 at different collaborating venues in the Twin Cities.
Engagement with the general public is encouraged both formally and informally during the time of the residency. In addition to the performance that will always be paired with a more intimate situation, different workshops will be offered during the residency. They will allow the local community —professionals as well as amateurs, youth, and academics— to engage with the artist and potentially participate in his/her process.
FD13 is a 501(c) (3) nonprofit organization registered in the State of Minnesota.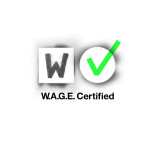 FD13 is W.A.G.E. certified.
We join Artists Space in providing a guaranteed minimum income to the artists they work with, paid in accordance with W.A.G.E. Certification's compensation standards and guidelines.
Founded in 2008, Working Artists and the Greater Economy (W.A.G.E.) is a New York-based activist group whose advocacy is currently focused on regulating the payment of artist fees by nonprofit art institutions and establishing a sustainable model for best practices between artists and the institutions that contract their labor.
—
FD13 crew
Sandra Teitge, Founder & Co-Director
Sandra Teitge is a Berlin-based curator/programmer, writer, and researcher born and raised in East Berlin/Germany. She organizes discursive events and exhibitions in the realm of contemporary art and is interested in creating time-based situations, which focus on dialogue, knowledge exchange, and the body. Recent projects include research in the framework of culinary politics in Beirut/Lebanon (Sharjah Biennial 13), Mexico City (MUAC) and Munich/Germany (Spielart Festival); off-site projects at MoMA PS1; the WorldWide Storefront organized by the Storefront for Art & Architecture New York; the all-night performative exhibition Vexations at the Northrop Auditorium in Minneapolis; the Pavilion of Georgia at the 55th Biennale di Venezia; and the 7th Berlin Biennale for Contemporary Art.
Sandra lived in the Twin Cities for three years and started FD13 residency for the arts in 2014 after a careful and thorough investigation of the local scene. She continues to co-run FD13 remotely.
Sara Cluggish, Co-Director
Sara has worked for the past three years as Curator at Site Gallery in Sheffield, UK, where she oversaw the gallery's exhibitions and events programming, as well as Platform, an experimental artist-in-residence series. Sara was previously an Assistant Curator at Nottingham Contemporary and has worked in the exhibitions departments of Chisenhale Gallery, London; Whitechapel Gallery, London; and the Contemporary Arts Center in Cincinnati, Ohio, USA. At Site Gallery, she is currently curating a new moving image work by Daria Martin which experimentally adapts Franz Kafka's short story A Hunger Artist. Sara has been based in Minneapolis since 2016. She teaches modern and contemporary Art History at the Minneapolis College of Art and Design and has co-run FD13 since the fall of 2017.
Bruno Freeman, Artist Liaison
Bruno is an independent art consultant specializing in emerging artists.  He studied at Sarah Lawrence College and Maryland Institute College of Art and holds a BA in Art History from The University of North Carolina at Chapel Hill.  Recently he completed an MACA, Masters of Art in Contemporary Art, at Sotheby's Institute of Art in New York.  He has worked at numerous art fairs in New York and Europe and was a curatorial assistant at the alternative Mexican Pavilion at the 2009 Venice Biennale.  In addition to assisting his clients in acquisition and curating, he is active in fundraising for a private hospital and in the Patrons Circle and Collectors Council at the Walker Art Center, where he has assisted in development, education and acquisition.  Bruno is also an ardent supporter of community-based art and artists in the Twin Cities and elsewhere.
Board of Directors
Jeremiah Collatz, Treasurer
Jeremy is an architect and art collector based in Minneapolis.  He holds a BA in theater and art history from Northwestern University and a Master of Architecture from the Illinois Institute of Technology.  He has been involved in various capacities at arts organizations including The Art Institute of Chicago; The Renaissance Society; The Museum of Contemporary Art, Chicago; The Arts Club, Chicago; Midway Contemporary Art, and The Walker Art Center, among others.
Bruno Freeman, Chair
Sarah Petersen
Sarah's interdisciplinary practice includes performative, structural, sonic and textual interventions, and the production of signs and signals that others use to reconsider and intervene in social space. Trained in various embodiment and dance practices, she also collaborates regularly with numerous artists and choreographers on the production of their live works. Her work has recently been hosted by Flux Factory in Queens, NYC; in Los Angeles by ltd los angeles, Honor Fraser Gallery, The Hospital, the L.A. Art Book Fair, Perform Chinatown, Paramount Ranch Art Fair, and Venice 6114; in Copenhagen by Vermilion Sands; and in Minneapolis at The Soap Factory and Northern Spark art festival. She is adjunct faculty at the Minneapolis College of Art & Design since 2014, a resident fellow in Sustainability at Hamline University, and a graduate of California Institute of the Arts (MFA, 2012).
Advisory Council
Olga Dekalo
Dekalo is Assistant Curator at Katonah Museum of Art. She was a Curatorial/Publications Associate at PARTICIPANT INC (NYC) and is a graduate of the Center for Curatorial Studies at Bard College. Her recent curatorial projects include: To Look Is To Labor with Harun Farocki, Lucy Raven, and Andrew Norman Wilson; Flip the Script, a performance and installation with Vanessa Anspaugh, Lindsay Clark, Lydia Okrent, Mary Read, and JD Samson; November 1, 1993 (The Morning After) with Glen Fogel. She has collaborated with artists Liam Gillick, Sarah Pierce, Antonis Pittas, Emily Roysdon among others. She is currently working on a performance program that takes up horizontality as a framework for choreography.
Erin Somerville
Somerville is Deputy Director of White Columns (NYC) and co-founder and co-director of the exhibition space Cleopatra's in Greenpoint, Brooklyn.
Emeritus
Anaïs Nony
A native of France, Anaïs Nony is a scholar working in the field of philosophy, critical media, and performance. She holds a B.A. and a M.A. in Arts, Theater, and Modern Society from the New Sorbonne University in Paris. Her research residencies include NYU and Cornell University. She is currently finishing her Ph.D. in French and moving image studies at the University of Minnesota. Anaïs Nony collaborated as an author with several journals in France, Italy, Belgium, and the U.S. She is the co-founder of the international collective Noötechnics and has been studying with philosopher Bernard Stiegler for several years.
—
Design: Wiley Hoard